We bring together world-class diverse professionals to connect, empower and propel Black professionals. Our Mentors are an experienced roster of industry leaders from vast professional backgrounds and ethnicities who are ready to help, encourage and transfer invaluable advice to professionals.
career guidance and serves as a sounding board for a mentee.
Whether you're a student, a newcomer, an entry-level, mid-career professional, or an entrepreneur with a bit of business experience under your belt or at the early stages of your business, you can always benefit from a mentor.
A mentor can serve as a sounding board at critical points throughout your career and at BMI we choose mentors with a variety of backgrounds to help lead our mentees.
While having a mentor can make a significant difference in your career but being one can be a valuable experience. A great mentor doesn't just provide guidance and answers during career transitions and growth; they provide motivation and inspiration to help a mentee get to the next level and fulfill her potential.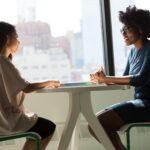 "Working with two BMI mentors for personal growth and professional development has expanded my network, advanced my business, and led me to new initiatives. The support and accountability have propelled me to build a team for my business, and tone significant aspects of project management such as prioritizing, problem-solving, persuasion, and foresight. The experiential learning was "hands-down"! My experience demonstrates how BMI will continue to make a profound impact on Black professionals and entrepre
Michelle