What is the Propel Mentorship Program?
The Propel Mentorship is a mentorship program that works to help Black professionals develop their skills, expand their professional networks, and advance their careers through a mentoring relationship that includes education and skills building. This Mentor-Mentee relationship serves as a bridge for the mutual exchange of knowledge and experiences, increasing the potential for growth for both parties.
When you create your profile using our mentorship tool (MentorCity), we pair you with a mentor who will work with you one-on-one. The minimum requirement is to meet with your mentor for two bi-weekly sessions, depending on both parties' availability for six months. The program starts in January of each year and runs at a six-month interval.
Why is this Program needed?
Black professionals continue to face inequities at work and in their daily lives.
Often, they lack the necessary support when they begin their careers. Mentoring will provide that support by providing these professionals with a safe environment in which they can learn without fear and receive the assistance they require, all while expanding their network.
What is required of participants? 
Each mentee and mentor will commit to meeting at least twice a month throughout the duration of the Cohort. Meetings may be held virtually or in-person at the mutual agreement of the parties involved. Mentors and Mentees are required to register by creating a profile.
If you are a professional and are interested in propelling your career,
become a Mentor or Mentee. 
Any professional, regardless of race, religion, or professional background, who believes they have value to offer to black professionals entering their field. If you are a professional who wants to lead, enjoys teaching, has good communication skills, works well in groups, has a positive attitude, and, most importantly, wants to propel black success stories, you have all the requirements needed to be a mentor. 
Black students, youths, professionals ( entry-level or mid-career ) , new comers and new entrepreneurs living in Canada that want to propel their personal and professional pursuits to the next level. If you are a black professional who is eager to learn and an active listener, you meet all the requirements to become a mentee.
Have more questions, contact us at info@blackmentorshipinc.ca
What happens after I apply?
Once applications and profiles for mentors and mentees have been received and completed, our team will conduct a vetting process, analyzing your profile to determine the best possible matches of mentees and mentors that maximize your growth opportunity.
Following that, participants who have been matched will be officially integrated into the program. An orientation for mentors and mentees will be held to outline the expectations and schedule for the Cohort. Resources will also be made available to help mentor and mentee relationships thrive and grow.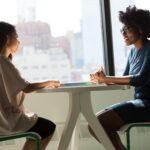 "Working with two BMI mentors for personal growth and professional development has expanded my network, advanced my business, and led me to new initiatives. The support and accountability have propelled me to build a team for my business, and tone significant aspects of project management such as prioritizing, problem-solving, persuasion, and foresight. The experiential learning was "hands-down"! My experience demonstrates how BMI will continue to make a profound impact on Black professionals and entrepre
Michelle